Yesterday I sent a request out to my home brewing club asking for help in the hop yard for the season. I think I have enough knowledge to share that it will be beneficial to everyone. I was able to give an overview of the garden and work involved to five volunteers. Five other people--how am I going to keep everyone busy???

It turned into a gorgeous day and one of the guys came ready to work, so we cleared the leaf mulch away from the plants.

I really didn't think we'd find anything and then, lo and behold, hop shoots!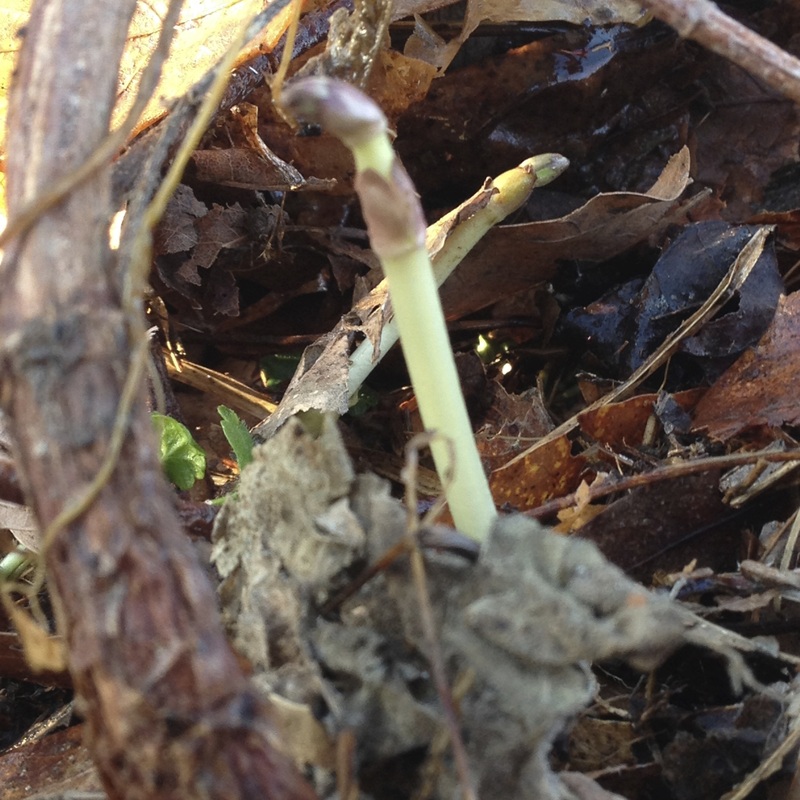 Nugget shoots. They weren't bunched together like the Cascades above. Each variety has different growth habits.
How can you tell the hop shoots from other growth (weeds)? You can see that the tops have pinkish tips. In the photo below, you can see a pinkish band around the stalk.
Non-hops plants that are coming up under the leaves are either completely white or green. As they leaf out, the hops will get redder, then turn green.

Hops shoots are edible and some commercial growers harvest them to sell to restaurants. It doesn't affect the final harvest. Only one or two shoots/bines are selected grow up each string, so the rest may as well be put to good use.

We were surprised at how many rhizomes were at the surface. Here, you can see the buds emerging from one of them.
It's supposed to rain over the next few days, so we probably won't be back out in the garden until next week. I can't wait to see how things have progressed.