I used to dislike cooked squash. Raw, fine, but cooked was gross. Then a couple of years ago we went to Finland for the World Rally Championship. After five days of eating track food, I needed some vegetables. We were in a restaurant in Helsinki and despite the description that said squash umpteen ways, I ordered the curried vegetables. It was really good. You know why? They had removed all the yucky seeds and the disgusting goo around them.

I realized that I probably can like just about anything if it's prepared right.

So now squash is one of my go-to vegetables and my favorite way to prepare them is oven-roasted. Roasting is simple, doesn't require a lot of monitoring or make a big mess, and it brings out the sweetness in foods. Who doesn't need a little more sweetness in their lives? Here's how I do it.

Preheat the oven to 400-450 degrees F. Assemble your vegetables--don't forget to look in the refrigerator for anything that's near the end of its life, like carrots or garlic.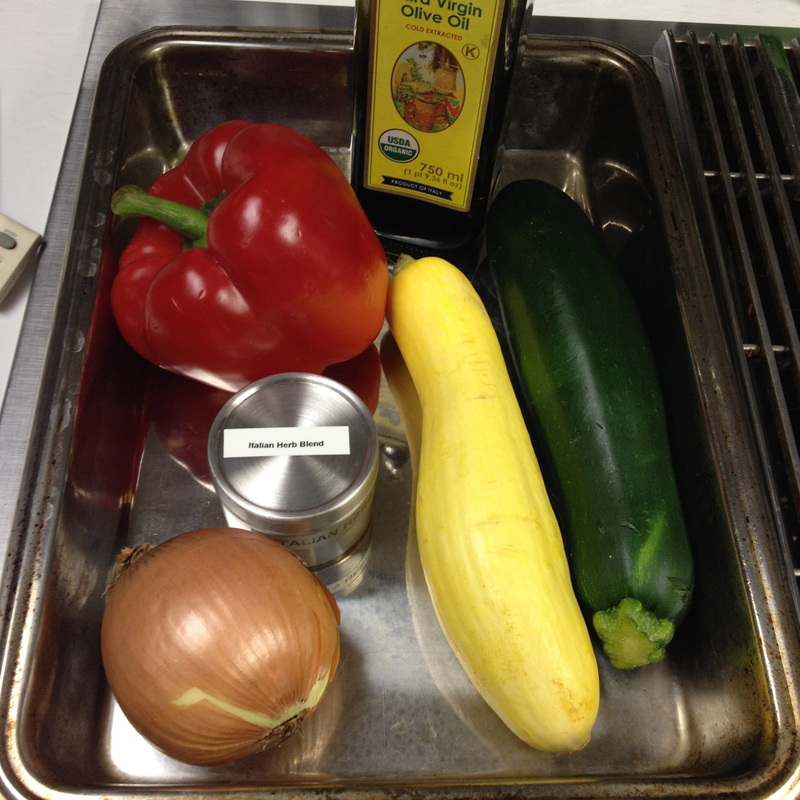 The only near-death vegetable i used was the onion. This was a big pepper, so I only used half of it.
Cut up your vegetables all the same size. Smaller pieces will cook quicker. Be sure to de-seed the squash. More and more groceries are offering pre-cut vegetables that are perfect for this cooking method, so you may not even need to put this much effort into it.
Collect the vegetables in single layer in a pan. Drizzle a tablespoon or two of olive oil and sprinkle with herbs, pepper, and a little salt. I use an Italian seasoning mix that I found in
this
book.* You can use any mix you like, but I find that Italian-style mixes work well with almost any vegetables.
Bake the vegetables for 20 to 40 minutes and stir at the half-way point. The duration depends on the type of vegetables you're cooking and their size. Asparagus only takes about 10 minutes. Pierce the vegetables with a fork to determine when they're done to your liking. I like my vegetables well-cooked and the onions caramelized and sweet.
We usually have plenty of leftovers and I add them omelets or make a quick soup for lunch by adding them to homemade chicken broth (thanks, Lorna Sass, for giving me permission to
simplify this process
).
Now that I've figured out a way I like squash, can anyone tell me a decent way to fix Brussels sprouts?
*I use this Italian seasoning on
everything.
Omelets, all vegetables, in soups and spaghetti sauce. I make it with the optional red pepper flakes, so it has a little kick. Buy the book, get a pressure cooker.