It's time to start guiding the hops up the twine. We cut back the initial growth and now they've bounced back and are ready to grow vertically.
Some manage to find their own way up. This photo shows clearly how the hops grow clockwise, but the bine is a little leggy.
So, how do I decide which bines get to grow and which get cut? I look for a good number of leaves that have no yellow or brown (cutting back the initial growth helps with this). I don't want them too long or too short. Just looking healthy is more important than anything else.

The other important factor is where they are in relation to the lower cable that the drip irrigation hangs. I want them as directly underneath the cable as possible so the water gets to the plants. It also makes it easier to mechanically weed.
I wind two or three bines up each set of strings. You'll hear people say that you should wind clockwise. That means you wind as though you're looking at the plant from above. I guess you can also think of the righty-tighty rhyme for tightening nuts.

Once I've done this, I cut back the rest of the plant.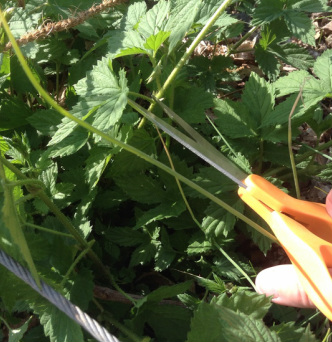 In the end, it should look well groomed. Little shoots may come up over time and one or two more may sneak up the strings, and that's OK. The strength of the plant will still be concentrated into just a few bines.